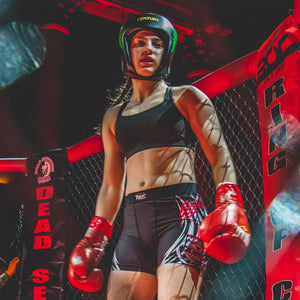 Sophia Mirabella – Woman Wednesday Q&A Interview
 Q.You have been competing since you were seven, what inspired the journey? What about MMA attracts you? 
a. I'm a twin, and my sister is a special needs individual. When we were much younger, she was bullied and that just didn't sit right with me, it still doesn't. My aunt's old friend opened up a martial arts school in my neighborhood, I convinced her to let me try a class, and I've been training ever since. What attracts me most about MMA is the paradox of grit and roughness with respect and class - knowing that I have the skills to show force, and the wisdom to know when and where to correctly use it.
 Q. What would you say your highest athletic achievement has been? What is your dream achievement? 
a. I just made NCWWC All-American and placed 4th in my first college national championship. So that, to date, would be my current highest athletic achievement. There are others, but they're all in the past now. My desired achievements go beyond tangible goals. On the surface, my plan has always been to go to professional MMA and earn belts in several popular promotions. But, more than that, I want to leave a positive footprint even after my retirement… I've been talking to my friend and current Light Heavyweight champion for One Championship Aung La N Sang about going to Myanmar and teaching the kids how to wrestle, and while it's just talk for now, it's a start.
 Q. After incorporating wrestling into your MMA training regimen, you fell in love with the sport and decided to pursue a college wrestling career. What about the sport captivated you?
a. The grit and the grind are always my favorite parts of this sport. No other sport, not even MMA, requires the toughness needed to survive and succeed in wrestling.
 Q. How does wrestling compare with MMA for you? 
a. College wrestling is a completely different playing field from MMA. Let's put it this way - Michael Chandler told me that it would be a full-time job that required no less than 110% of myself, and he's absolutely correct. MMA and wrestling both require consistency & commitment, but wrestling has a more rigorous schedule than MMA. 
  Q. How have Coach Jason Moorman and Coach Julia Salata pushed you to become a greater athlete? Aside from them, is there anyone else who highly motivates, or inspires you? 
a. Coach Moorman and Coach Julia keep it real with me, and that's honestly the best thing that can happen to an athlete. They both help me work on the physical and mental aspects of training & competition, and this has helped me grow so much in just a year. 
Aside from them, I'm blessed to be surrounded by a good number of mentors and motivators. It's a really long list and would take forever if I enumerated it all!
 Q. At only 15 years old you became the youngest candidate in the Next Olympic Hopeful for women's boxing. How did hearing these news make you feel? 
a. When my name got put in the hat, I was extremely excited about it - I trained hard, boxed well, and connected with the coaches seamlessly. So you can only imagine the blow I felt when I wasn't chosen because I was "one year too young for eligibility." But, that brought me to other opportunities and ultimately to finding wrestling, so now you could say I'm thankful I wasn't picked.
 Q. What aspects do you love most about King University?  
a. Having grown up in one of the busiest and most cosmopolitan cities in the world, I've always been accustomed to a fast-paced lifestyle. Transitioning from that to a significantly more mellow pace in King taught me patience and calmness, and that's one of the things I love about King.
 Q. What are you currently studying?
a. I'm currently studying Business Management with a track in Sport Management, and I plan to double major in Security Intelligence for my sophomore year.
 Q. What are your hopes for wrestling and MMA as a sport in the upcoming years? 
As a sport, I definitely like what I'm seeing in terms of women's recognition. In the upcoming years, I would love to see wrestling get more of a platform in the mainstream, which would allow the sport to have the same production and airtime as MMA and Boxing.
 Q. You are a very dedicated athlete, what do you enjoy doing when you are not training or doing schoolwork?  
a. I enjoy reading and I write on occasion. I find baking to be very therapeutic, and I'm told that my banana bread is a best seller.
 Q. Any artists that get you pumped and motivated? Who are your top three most listened to artists? 
a. I listen to a variety of music and my top 3 most listened to artists are Eminem, Morgan Wallen, and Rihanna. BUT, to get pumped and motivated, NF and Jay Z are the essentials.
 Q. After you accomplish your 2024 Olympic dream, and become an MMA pro fighter what would you say comes next? 
a. After accomplishing those goals, my foremost objective is to make sure I've built enough of a brand in the process so I can live comfortably and pursue my passions without having to worry about long term finances. I'd like to be able to travel, most likely teach, coach, and train along the way, and impact people I interact with. I want to leave a positive footprint that's going to ripple long after I'm done.
 Q. If you could only eat one dish for the rest of your life, what would it be? 
a. I'm a foodie, I can't pick just one dish! But, if I had to eat just one cuisine - I'll definitely choose Mexican food (Sorry, Nonna!)
---