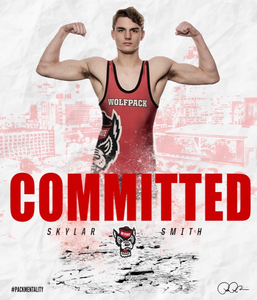 Skylar Smith - Athlete Spotlight Q&A
Q. How did you begin your wrestling journey, how old were you when you started?a. I began my wrestling journey when I was six years old, my father started me early, being a wrestler himself and placing second at the olympic trials. I started practicing at age six then competed in my first tournament a few days after my seventh birthday.Q. What makes you passionate about wrestling?a. I love the grind. Nothing compares to the sport of wrestling when it comes to mental and physical toughness, you have to be a little crazy to pursue this sport and that's why I love it.Q. Who is your favorite wrestler and why?a. My favorite wrestler is Yianni Diakomaholis, I love how humble and laid-back he is and how he wrestles with defensive style, it reminds me of myself in some ways.
Q. Congrats on being a three-time Texas prep state champion, what do you think was the main thing that helped you achieve this goal? How did you mentally prepare?a. I think to become a champion in this sport, you need to be mentally relentless, and willing to do anything and everything to succeed. No skipped practices, no 50% live goes, and no short cuts.Q. What do you consider to be your biggest strength when it comes to wrestling?a. I would say my biggest strength is either my leg defense or my slickness when taking a shot or hitting a duck under etc.
Q. What do you enjoy doing whenever you have down time? How do you relax?a. When I have down time I like hanging out with friends and wrestling, but the older I get, the more I want to just keep wrestling all day every day.
Q. What about NC State stood out versus the other universities you were considering?a. NC State was the perfect fit for me in every aspect. The perfect yearly climate, the outstanding and high level coaching staff and the tremendous academics. The wrestling team at NC State treat each other with high respect and they really embody what it means to be in a Wolfpack, to learn together, suffer together and to succeed together, having each others back through the whole journey. NC State has also been a top ten Division 1 program the past couple years and has been a program on the rise, and I want to make an impact on a team that could possibly when their first National Title during my time.Q. What are you looking forward to studying?a. I will most likely be studying criminology and visual arts, as I would love to pursue becoming an FBI agent or pursue something in film or photography.Q. What is your favorite food dish?a. My favorite food dish is probably some chicken fettuccine Alfredo at olive garden after weigh-ins, it hits different.Q. What are your most listened to artist?a. I like music to get me hyped up before a wrestling match, so I like listening to Lil Baby, Young Dolph, Ski Mask the Slump God, 21 Savage and many other artists in the hip hop/rap genre.
Q. If a genie granted you three wishes, what would they be?a. One wish would be to never get injured while wrestling, I'm still recovering from shoulder surgery that I had in August so its hard not being able to do what I love most.  My second wish would be to grow to be a role model and a leader in everything that I do, and my third wish would be to never have to feel the pain of cutting weight ever again.Q. What is your zodiac sign?a. CapricornQ. If you had to be Siamese twins with one person, which person would you pick?a. I would probably pick my friend Ethan Wilson, as we've been friends since we both stated wrestling at age six and have grown up together since then.Q. If you could pick three famous people to be in ur entourage who would u pick?a. I would first pick Gunna, so I could hear the greatest songs whenever I want, second I would pick Sommer Ray because she is a very beautiful woman, and third I would pick Connor McGregor so he can teach me his insane striking.
---