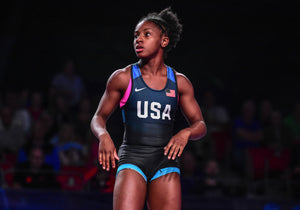 Q&A with Asia Ray!
Who is Asia Ray?
I am a very personable person, and not afraid to talk with anyone. I love trying new foods rollerblading and dancing. I am also a diehard anime fan. Like many other people/athletes I am extremely hard on myself, I want to be MY best in every aspect of life.
Give us some insight into your rehabbing
I am rehabbing my ACL on my left leg. I got surgery on May 9
th
, 2022. As you can expect with ACL reconstructions, it will take 8 to 12 months before I can compete again. Currently, I am doing at home exercises 2-3 times per day and going to a physical therapist 3 times a week. I am getting 1% better every day and feel confident I will have a successful recovery.
How do you mentally prepare for a match?
Right now, I am in the trial-and-error phase of preparing for the match. As I continue to grow as a person and wrestler, I expect to have a routine that helps me perform at my best. During practice leading up to an event I like to visualize myself at the tournament. I think about the sounds, checking-in at the table, walking to the center to shake hands etc. While I am at an event, I like to remind myself of how I train and feel at practice.
What is your favorite movie?
My favorite movie is Bad Boys 1&2 because Will smith is my favorite person. I've loved him since I was like 6 and I think will and martin together are hilarious. It's not a movie that you need to think hard about you know? Sometimes I like to just sit back and laugh without having to go deep into thought.
What is your fondest wrestling memory?
My fondest wrestling memory would have to be earning a junior worlds bronze medal in Finland. It was my first taste of travelling/competing internationally and I had so much fun.
Do you have heroes that motivate and inspire you?
Yes, but no one specifically because I feel like that will limit me. I am inspired by people who show discipline and work hard for what they want. It could be Tamyra Mensah-Stock, the first black woman to win an Olympic title or it could be my older sister who decided to go back to college. It's inspiring to see people working.
What three things can you say wrestling has gifted you with?
An outlet, discipline, and a more fulfilling life. Wrestling allows me to channel any anger, stress, or sadness into something positive and productive. It commands discipline and forces me to grow. It's an addition to my life that makes me feel like I can do anything. 
What would you like to see in the sport if anything?
I would like to see more women's weight classes starting at 48 kilos, and more division 1 women head coaches. I believe with more weight classes and women in head coaching positions at d1s comes more women involved in wrestling.
What are your top three artists to jam to during training?
Tupac, Mo3 and Boosie because the aggression in their voices, their lyrics, and the beat pump me up and makes me feel unstoppable.
If you could train with your favorite (current/ or past) wrestler, who would it be?
Wrestling would have to be Nina Pham because she is a great technician, we always kept a good pace, and would go crazy during live. We wrestled well together. Lifting would have to be my old teammate Amanda Alvarado because she pushed me, helped correct my form and was just an overall vibe in the weight room.
If you could wrestle anywhere in the world, where would it be?
I would wrestle in Japan because Japan is the country to beat at the Olympics. I'd also love to go to an Anime convention.
If you were not wrestling what other sport or hobby would you pick up?
I would be a gymnast. I was in a gymnastics class for a little bit in 7
th
grade and loved it.
If you were a dish, what would you be and why?
If I were a dish, I'd be a good ole Soulfood plate. Grilled BBQ ribs, collard greens, yams, and sweet tea because like the ribs, I am brown with a little bit of meat covering my bones. Sweet like sweet tea and the sides just add a little razzle dazzle.
If you had a choice between two superpowers, being invisible or flying, which would you choose?
I'd choose to be invisible so I could sneak inside super expensive restaurants and eat all the foods I can't afford. And I'm afraid of heights so it is just the best option.
---