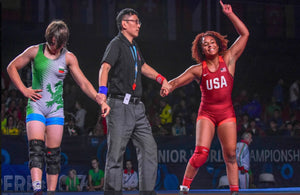 Maya Nelson - Woman Wednesday Q&A
Maya has won a 2017 Junior World title, a 2016 Junior World bronze medal, has been a two-time U23 World Team member, a 2019 Final X runner-up, and a four-time Fargo champion. Maya is currently coaching at Wyoming Seminary Girls Wrestling and is set on being the best coach she can to her students. We are delighted to be interviewing such an outstanding woman and wrestler. We wish Maya the absolute best through her journey as wrestler and coach.
Q. Let's kick off this interview by learning a little bit about yourself, who is Maya Nelson?
a. I would describe my self a go with the flow down to earth free spirit. I've always worked hard especially to reach my goals. 
Q. You started wrestling at a very young age, has your perspective of the sport changed since then?
a. I think my perspective has changed many times in the aspect of what my why is. At first I started wrestling for my dad. Later I realized that I had to wrestle for myself, but I got to a point where I convinced myself that wrestling was everything that I was instead of something that I do. That put a lot of pressure on my plate in turn making the sport not so fun anymore. I finally have grown to understand that wrestling is just something I do. Wins and losses don't define me and I am enough, always. Now I just strive to be the best version of myself every single day. 
Q. Will you be competing in any upcoming, or future fights?
a. I'm recovering from shoulder surgery so I won't be on the mat in action for a bit
Q. We know your parents have been a big influence in your life when it came to sports, especially your dad who was your coach at a point. Was this a motivating factor for you, or do you think that having a parental figure as a coach hindered your growth as an athlete?
a. I believe my father gave me everything he could when he was my coach. He pushed me harder than any other kid which truly formed my work ethic and grit. I think sometimes it gets hard when your dad is your coach because the line between coach and parent gets a little blurred. For a bit me and him had to work on our relationship, but now you can see him usually at tournaments standing on the floor next me, holding my water bottle and such. Always there for me, always supporting me. 
Q. Ever since you were young you participated in sports even if you were at odds with boys, do you think it made you stronger? If you could have changed anything about the situation back then what would it be?
a. I think when you're young you don't think about the "odds" stacked against you. I will say being a girl in a male dominated sport is not for the faint hearted. It wasn't so much my opponents, but their parents and coaches would say some things you you should never say to a child or about a young girl. I, however, am a firm believer that everything happens for a reason, therefore everything that I've gone through has gotten me to the place I am now. Would it have been nice to be able to wrestle girls growing up, of course, but I had to deal with the cards life dealt me. It has made me the strong woman I am today. 
Q. With wrestling being such a male dominant sport did you face any obstacles due to your gender? If so what were they, and how did you push past them?
a. As a child I overheard grown male adults tell their sons to hurt me. I've had an article in a newspaper written about how I shouldn't be wrestling with the boys, which if I had the option to wrestle with girls I would have gladly taken it. I've been called manly. I've been in gyms that many people believed that I didn't belong nor did I deserve to be there. The only reason I got through a lot of that is the work ethic I learned from my dad and the will to continue moving forward no matter what that my mom instilled in me. I said this before, but I'll say it again: being a girl in this sport, especially around the time I was coming up, there was no room for any mental weakness. Anything can be used against you to prove their point that girls shouldn't wrestle. You have to work 10x as hard for none of the recognition and be okay with it. My parents always told me to put my head down and get to work. I had to block out the negativity and overcome any adversity thrown my way. 
Q. We know you have a natural talent for singing, do you see yourself developing that passion further?
a. I live my life in a "go with the flow" type of way. If I'm supposed to be a singer, I'm sure life will take me there. God's got a plan for me and I'm just going along for the ride. 
Q. What do you think you would be doing if wrestling was not part of your life?
a. I honestly have no idea. My family is full of athletes so I probably would still be in sports. My first love was soccer, so maybe I would have gone down that path. 
Q. What has been your most memorable achievement?
a. I would probably have to say winning Junior Worlds. Finland was also one of my favorite trips I've had throughout my wrestling career thus far. 
Q. If you were stuck on an island and could only bring three things with you, what would they be?
a. Coconut oil, a lighter and probably some type of weapon... maybe a pocket knife. 
Q. What are your top five most currently listened to artists?
a. Bruno Mars, Teyana Taylor, Megan Thee Stallion,Toni Braxton, andH.E.R
Q. If you could change anything about the current state of wrestling as a sport what would it be?
a. Everybody in US would be wrestling Freestyle or Greco and girls high school wrestling would be sanctioned across all 50 states
---