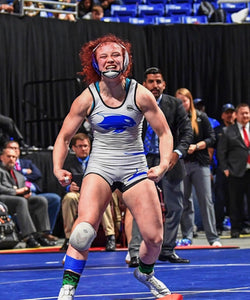 Lexie Basham - Woman Wednesday Q&A
After wrestling for eight years where do you see yourself in the upcoming years? Will wrestling still be part of your life?  
I plan to continue wrestling through college until I graduate. And take opportunities as they come such as world team, Olympic trials, or even coaching opportunities.
What has wrestling helped you discover about yourself?                                       
Wrestling has helped me discover I REALLY hate losing. I've always hated losing, but when you have nobody else to blame but yourself you realize how much you truly hate the feeling. It has also helped me realize I'm a go getter, I will always do what I need to succeed. And also that  I'm very head strong, again we've known this since I was little, but through wrestling I've realized I like to do things my way.
Has the sport helped you grow as a person?  
Wrestling has definitely helped me grow as a person! I've always been a lead by example or the mean cop, but after two years of being captain at Byron Nelson I realized I needed to grow more. After long talks with Coach Ornelas, it finally clicked. I soon was a leader everyone loved and wanted support from. I became loving but still hardcore and I let the girls in. I became a mentor to many of the younger athletes and I loved it. I absolutely love being able to help guide girls in the sport of wrestling! So wrestling has helped be build my character in a more positive way
You were 3rd place at Senior Nationals back in October and took 4th as a team, congrats! What do you contribute your personal and team success to? Any tips?                                           
I will always contribute my success to my number one supports, my partners, brother, and sister, along with my fiancée Nate. And of course every coach I've had because none of this would be possible with out them. But definitely a huge shout out to Coach Ray who was in my corner the whole weekend and Coach Ornelas who was screaming from the stands. As well as my workout partners! As far as any tips, I believe work ethic and your practice partner play a huge role in your success! No matter how good you are, you constantly have to work hard because your opponent is working just as hard.
With Wrestling being such a male dominant sport, what were some of the challenges you faced being a female wrestler?   
For me personally I haven't struggled much with the male dominance. I played baseball from the time I was 4 all the way to freshman year of highschool. Yes baseball, I played on a all boys travel team. This put me through far more negative experiences than I've ever encountered in wrestling. Although I was one of the few girls who wrestled in youth here in Texas when there was no girls division. So we wrestled boys, but again most guys didn't seem to care much, of course there was exceptions. But for the most part the only challenge I've faced is guys continually try to throw it in our face that it's "girls wrestling". They use that as the reason we win these big tournaments or have more success then them.
Any tips you could give to any new-up-and-coming women who are joining, or thinking of joining the wrestling?                                  
Number one, is find a coach that you really connect with and you feel at home in the mat room. Number two, there's always going to be ups and downs, wins and losses, but never give up. Wrestling isn't easy or everybody would do it. So remember in the times of doubt or failure, GROW FROM IT. Failure is unavoidable, but it's also a blessing.
What is your biggest strength as a wrestler?  
I think my biggest strength is confidence and mental toughness. It's really hard almost impossible to teach mental toughness, some people are born with it and some have to work for it. I believe the challenges I've faced in life gave me no choice but to become mentally tough.
What are you currently studying and what makes you passionate about it?                               
I'm majoring in Psychology and I absolutely love it so far! I'm very interested in how the brain works, as well as what causes us to behave a certain way. I believe it's a awesome scientific field for many reason, but one advantage of majoring in psychology is it builds all the skills that you'll need in any career field. Many psychology majors go into other career fields but do amazing at their jobs!
What do you love most about wrestling for TWU?
I absolutely love the family culture! I think our teams bond really well together, men's and women's! I also love all 3 of our coaches, they are absolutely amazing! I think they balance each other perfectly, which it's a plus as well because you always need good cop, bad cop!
How do your coaches and peers inspire you? 
All my coaches inspire me to be the best wrestler I can be and to never give up no matter what. But Coach Ornelas for the past four years has been my role model and mentor, he is an amazing coach, dad, father, teacher, and friend. He has definitely helped me change into the young woman I am today! Also my family and fiancée who always support me no matter what, win or lose. They inspire me to be the best me I can be! And as far as my teammates, they inspire me to keep going when it gets hard and I feel like giving up! They are super encouraging and always willing to help in any way they can!
Which current Female Wrestler is your favorite? Do you look up to any of them?               
I'm a huge fan of Kayla Miracle. She is an absolute beast plus she's at 36kg, which is at my weight. So I look up to her because I want to be up there with her someday! She's at the top of the food chain and I'm still at the bottom working my way up!
What is your favorite dish?                       
I absolutely love Chinese food, but overall my favorite dish is probably chicken fried rice or orange chicken with chow mein.
What game show would you be super awesome at?                                                          
My fiancé and I always talk about doing American Ninja Warrior or the new game show The Floor is Lava. Any type of obstacle game show!
If you could pick three famous people to be a part of your entourage, who would you pick?  
Keanu Reeves, bad to the bone, handles business as well. Ronda Rousey, have to have another intimidating female that can handle business, and Kevin Hart, always have to have a comedian.
What would you do if you won the lottery? 
I would use some of it to pay for my fiancé and I's wedding, we recently got engaged in July. Then use the rest for us to travel the world, that's a life long dream. We want to redo a van, into a mini home camper van and travel the US. Then travel the rest of the world!
---