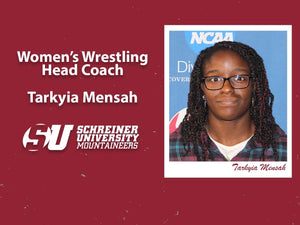 Introducing the new Schreiner University Woman's Head Wrestling Coach, Coach Tarkyia Mensah
Tarkyia Mensah is a Katy Texas native from Morton Ranch High School. She won a UIL state wrestling championship in 2011. She continued to win her winning ways & won two national College titles in 2015 & 2016 while as a student athlete at Wayland Baptist University. Mensah will officially take the helm of the Schreiner Women's Wrestling Program this fall.
Describe yourself using 3-5 words.
I'll describe myself as a serious but chill individual. That's creative, curious, and kind.
How did you become interested in wrestling?
When I was younger, the Japanese culture caught my attention. From there an interest in martial arts sprouted. Wrestling was the closest I could get, and nothing was going to stop me from joining my high school team.
In your opinion what attributes make a great athlete?
In my opinion, what makes a great athlete is that they have an innate desire for their goals, and they are focused. They are confident and optimistic. At the same time, they have a great support team, and they see an obstacle as a stepping stone. They take on their fears and reshape them to become fearless.
What are the top two lessons that wrestling has taught you?
Wrestling has taught me many things but the top two would have to be: I'm crazy Haha! Also, that anything is possible. I say that because my wrestling journey has been kind of rough. My injuries have always been in the way, but I refused to stop. Back in high school my first semester wrestling, during competition my knee was severely dislocated. It caused me to have drop-foot which is nerve damage. In my case, it prevents dorsal flexion in my right foot, and I cannot turn it out either. I've also had two knee surgeries on the same knee. Anyway, it's been fun but fun for me. I refused to stop wrestling and I wanted to go to higher heights with it. If you love something pain and sacrifice becomes a byproduct, there is more to the journey though. I found out that nothing is finalized and surprised myself along the way, I'm a comeback kid and with my injuries I had a blast.
What was your most memorable accomplishment?
My most memorable accomplishment was when I won the 2016 University Nationals. It was a tough match between me and this OCU girl and I came out on top. It was a bout to see who would make the University National World Team. My end goal was to wrestle outside the country- that's all I could think about during that match, and I won. I was so shaken and elated I was hyperventilating!
What are 3 of your hobbies outside of wrestling?
I could binge watch anime till the sun comes up, I enjoy playing video games and learning Japanese.
How did you make the decision to become a wrestling coach?
My biggest goal in life is to create a ripple effect of helping people become their best version of themselves. I want to help others. It sounds cheesy and idealistic, but I have thought that way for as long as I can remember. I just did not know what it'll look like. Me and Tamyra went back to our high school, Morton Ranch and they had a whole pep rally for her winning the Olympics and celebrated! It was great! We met our high school teachers, coaches, old friends and all the students. It made me so HAPPY. Hearing what everyone had to say- this is what I was looking for. So, with encouragement and support I took a courageous step outside of what I knew and pursued the coaching path. I want to reflect back what I've been given so many times by my coaches and teachers.
What are you most excited about for this coming year?
With everything as it is, I am mostly excited to build the program a solid foundation and to build the ladies confidence and goals.
Being a first-year head coach, what do you feel you are most nervous about?
My nerves have yet to leave me but I'm not alone in my troubles. Everyone has been so helpful, even coaches from other universities/ colleges. I'm blessed and happy, truly. I was a correctional officer for 5 years now I am a coach- I can't say I'm nervous about everything, but I just want to be a competent head coach.
 What are your goals for the season?
My goal for the season is to keep climbing. We have a young team but still, I want the team to be better than the top ten. I want the ladies to succeed as a team and to individually reach their personal goals. To stay hungry and to wrestle year-round. To not only train physically but mentally and emotionally as well. This year we are going to plant the seed, water it and grow.
---