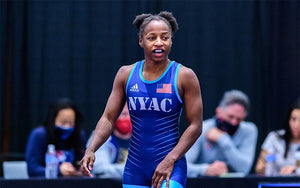 Erin Golston - Woman Wednesday Q&A
Today we are SUPER EXCITED to be interviewing ERIN GOLSTON! Erin is currently on the 50 kg ladder for Team USA's Women's Freestyle National Team, is a three-time Junior World medalist, winning bronze in 2011, 2012 ,and silver in 2013. She is a five-time FILA Body Bar national champion, winning as a Cadet in 2008 and as a Junior from 2010-2013, and a three-time U.S. National Team member.

Erin is a significant role model and influence for many in the wrestling world. Her adaptability , strength, and determination is not what just makes her a good wrestler, but also a inspirational woman!

Make sure to check out our blog to read the full interview and get a special peek into the wrestling world through the eyes of Erin Golston!
Q. How long have you been wrestling for? How did you discover your passion for the sport?
a. I first started wrestling when I was 6! The year prior, I would sit and watch all of my older brother's practices and competitions. After seeing him bring home trophies every weekend, I decided I wanted a piece of that glory and decided to ask my parents to join. I have been in the sport for 21 years now.
Q. We know you are an Illinois native; do you miss anything specific from Illinois that Colorado does not have?
a. Colorado has been my home for a while now but I do miss Illinois. I miss my family all the time. One thing I really do miss is bueno beef Italian beef sandwiches. Colorado is pretty but I also miss the greenery of Illinois and it's many seasons.
Q. We know that wrestling is not an easy sport, do you think that you would be participating in any other sports if it was not for wrestling?
a. I've been in plenty of other sports other than wrestling. Soccer was my first sport and I loved it. So if I wasn't wrestling maybe I would give soccer a shot. I also really enjoyed watching canoe slalom/whitewater slalom during the 2016 Olympics. I would love to try that!
Q. Injuries are inevitable in your profession; do you have any tips to prevent severe physical harm? How do you cope training and fighting with minor, or major, injuries?
a. Injuries are definitely one of the many challenges of wrestling that's why I take important measures to try and avoid them. As I've gotten older I have put my recovery measure at the top of my list. Recovery is just as important as the wrestling itself. Some of the recovery tools I use are normatec, foam rolling, sauna, and ice/hot baths. I think these tools have helped me stay cleare from serious injury. I also grew to learn that sleep is very important. Injuries can happen due to lack of focus and sluggishness. A good nights sleep avoids all of that. I usually "push through" minor injuries. But with the more serious ones I leave everything in my athletic tainers hands. They decide my treatments and protocol to getting back on the mat.
Q. We can image there is a lot of support between women in the wrestling community, is there anyone who you feel always motivates & supports you?
a. Olympic Bronze medalist and one one of my best friends, Randi Miller has been one of my most important support systems since I was 15. She always has the right things to say. She's helped me a lot throughout my career.
Q. We know women empowerment is significant to you, and we love that! With wrestling being a male dominant sport, what would you say to all those girls dreaming about becoming wrestlers who hesitate to join?
a. I would say take that leap! Joining this sport was one of the best decisions I've ever made. This sport has opened up so many opportunities and has allowed me to come across some amazing people. It's worth it.
Q. Did you face any kind of obstacles in your wrestling journey due to being a woman?
a. Plenty! Growing up I used to be put in brackets with boys that were a bit bigger than me. I think this was a tool to try and weed me out of the sport. Another present obstacle is the lack of coverage of female wrestlers. I've been vocal about this lack of coverage since I first came on the scene as a cadet/junior. Things have gotten better but there's still ways to go.
Q. How did they affect you and how did you overcome them?
a. These obstacles have allowed me to push that much harder. I always say my hard work will show. Dealing with these obstacles has also allowed me to find my voice. I consider my self an advocate when it comes to equal coverage and pay within the wrestling community regardless of gender.
Q. How do you spend your time when you are not fighting, or training? Any special hobbies?
a. I'm a pretty big homebody so I enjoy my time off the mat. I really like anime and fabrics arts. On the weekend you can catch me knitting to some Demon Slayaer or Sword Art Online.
Q. As a successful and influential athlete, what/ who do you aim to represent within the wrestling community?
a. I feel that I represent many communities within this sport, country, and world. It's hard to choose just one; However, I would love to be a great example to young female wrestlers. I'd like to show them that with hard work and determination anything is possible.
Q. If you could describe yourself in three words, what would they be? 
a. Loyal, reliable, and welcoming.
Q. What has been your most memorable match so far?
a. My most memorable match so far was my bronze medal match with Oksana Livach at the 2018 Outstanding Ukrainian Wrestlers and Coaches memorial tournament. This match sticks out to me because I had to battle my way back from a 8-0 deficit. I scored my winning takedown in the last two seconds of the match. It taught me that anything is possible as long as there's time on the clock.
Q. We know you will be taking on world silver medalist Sarah Hildebrandt in November we imagine you are excited and bringing 150% to the mat, are you doing anything special to prepare for this match?
a. I'm so grateful for this opportunity to get back on the competition stage after so many months. My main focus has been to get 1% better each day. To find openings and to push myself in each position.
Q. If you had one wish, no restrictions what would you wish for?
a. I'd wish that myself, my friends, family, and everyone I love could live forever.
Q. What is your favorite "cheat" meal?
a. I absolutely love Sonics, but unfortunately I can't eat it too often. But when I do it's my favorite cheat meal. I love the chili cheese tots, jalapeño poppers, and strawberry slush lemonade.
Q. What are your current top three most listened artists?
a. The Cranberries, Lil Wayne, and Milky Chance
Q. What would you like to be remembered by in this lifetime?
a. I'd like to be remembered for the person I am, and for being Kind.
---