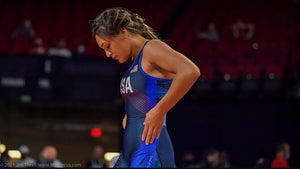 Desiree Zavala Q & A
Congratulations on winning the U23 59-kilo weight class outscoring your three opponents  31-0!  This win secured you a bid to the 2021 Senior World Team Trials, how does that make you feel? 
I'm super excited to be able to compete at WTT again, so it's awesome! I'm just happy for an opportunity to compete again, and can't wait! 
Most elite athletes are very critical of their performances & always looking to improve. What do  feel you need to work on to become better?
I have a long list of little thinks that I know I need to work on and one of the bigger one is setting a higher pace for myself at practice every day, because being in a college room VS a senior level room leaves a big margin of error that I'm allowed to get away with. 
COVID-19 has definitely slowed down the progression of wrestling, what safety practices did you follow to ensure your and your peer's safety while keeping your eyes on the prize?
We have continued to be very strict about Covid at Wayland, to the point where we even have to WRESTLE with masks on every day at practice. If you think you're in good shape just throw a mask on and rethink that thought. 😂 We also get tested as a group regularly. 
Wayland is currently ranked number 1 in the NAIA Women's Wrestling Coaches Top 20 Poll which is awesome! If you could say anything to your coaches what would you say? How do they motivate and inspire you? 
We have a great coaching staff at Wayland, and we are currently going through a head coach transition. But regardless I'm always thankful and great full to have people in my corner that truly believe in me and want the best for me on and off the mats. 
What do you love most about wrestling for Wayland? 
I love the fact that we have such a strong grip of girls, who are for the most part so young with so much potential! 
How long have you been wrestling for? How did you discover your passion for the sport? 
I started wrestling when I was four years old, and I just turned 23 last week! So around 19/20 years. I grew up around neighbors that wrestled, and I begged to go until they finally dragged me along one day. The rest was history! 
With wrestling being a male dominant sport have you ever / do you feel like you have encountered any form of prejudice due to being a female wrestler? If so how did you overcome it? 
Definitely. Mostly In high school, where I was on the men's lineup for a few years before my school In Washington was sanctioned. Guys we're scared to lose to a girl, there were times where they would just forfeit. As I grew older I still face what some would prejudice, but what I consider just a lack of knowledge. Most people are still shocked when they hear that women wrestle. I overcome this by trying to represent women's wrestling in a way that would make other competitors proud, and doing what I can to help grow the sport. 
What would you say to all the women out there thinking about wrestling? 
I would say give it a shot! There's no wrong time to start wrestling, and I think that regardless of the level, there is still something valuable to be learned from competing. 
Do you currently have any female, or male wrestlers that you look up to?  I have so many that I look up to! My college teammates, and fellow Team USA members, my coaches that used to compete, young girls just starting out! So much great role models! 
What are you currently majoring in and what inspired you to pursue that career path? I'm in a BAS program, with a focus on English. My long term goal for when I'm done competing is to coach, so I wanted to pursue something education related in order to help with that. 
What do you enjoy doing during your down time?
I enjoy hanging out with my kitten Ash, and spending time outdoors! 
What is your Zodiac sign?  Do you care?
I'm a Sagittarius, but I'm not big into zodiac signs. 
If you could only eat one dish for the rest of your life, what dish would that be?
Subway sandwich with tuna and pepperoni. 
If you could see any artist, dead or alive, in concert front row stage and have VIP access who would it be? 
Mac Miller
---