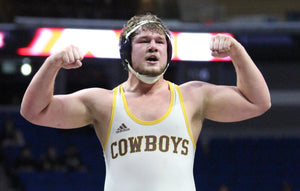 Brian Andrews - Athlete Spotlight Q&A
Today's "Athlete Spotlight" goes to Brian Andrews, Brian is Grapevine native currently wrestling at University of Wyoming, his accomplishments vary from being 2020 Big 12 Champion and D1 Qualifier at heavyweight. Being third place in NJCAA for Northeastern Oklahoma A&M College and being a three-time Texas State Champion for Grapevine High School in Texas.


Get to know Brian more through his American Wrestler Athlete Spotlight Q&A Interview below
Q. Let's begin with getting to know you a bit more. How did you begin your wrestling journey, and for how long have you been wrestling?
a. I'm brian Andrews I'm from grapevine Texas. I started wrestling when I was 5 or 6 because my dad grew up wrestling. My parents putting me into wrestling is something I'm extremely grateful for.
Q. What do you consider to be your highest achievement so far within the wrestling community?a. My highest achievement so far in wrestling would definitely be winning big 12s as a 5th seed
Q. What would be your ultimate life achievement?a. Owing a successful company and to just be happy in life. 
Q. After becoming familiar with wrestling and realizing it's a very demanding and difficult sport what makes you want to keep wrestling?a. What drives me to continue wrestling despite difficulties is many things. My teammates, the competition, my friends and family. Mostly I genuinely love the sport
Q. Do you have heroes/ role models in your life that keep you motivated/ inspired?a. I'm fortunate to have a lot of people to look up to in my life. I look up to other athletes, and to my friends and family.
Q. What do you consider to be your biggest strength when it comes to wrestling?a. Honestly probably hard to believe but my conditioning being almost 8,000 feet up, I feel like my conditioning is better than most heavyweights
Q. How do you best spend your down time when you are not doing schoolwork, or training?a. With friends family outdoors hiking and fishing.
Q. What is your favorite food dish?a. My Favorite food dish is chicken parmigiana.
Q. What are your most listened to artist?a. Eminem and Drake
Q. As an athlete, what do you aim to represent within the wrestling community?
a. Maybe to have confidence in yourself, and work hard, it always pays of, never give up or quit.
Q. If you could have one wish, what would you wish for?a. I would probably wish that I can fly or have 5 million dollars 
Q. What would you want to be remembered for in this lifetime?a. I want to be remembered as being a good man, being a good friend/ family member, and being happy.
Q. What are you currently studying and why?a. I am currently studying economics in hopes to start a company.
Q. What do you love most about the University of Wyoming?a. I love a lot of things about the University of Wyoming, but mostly I would say the people I have met through school/wrestling.
Q. After graduation what are your plans?a. After graduation I plan on moving back to Texas where my family is and starting a company, and my life.
Q. What is your Zodiac sign?a. I am a Capricorn, I had to google that because I don't know much about it.
Q. If you were in a three-way deathmatch with batman and superman, who would survive and how?a. Probably not me, don't have any super powers. I would probably try and wait till they start fighting before I step in.
Q. If you were stuck on a deserted island what three things would you take?a. I would bring a fire starter, a fishing net, and a Machete.
---