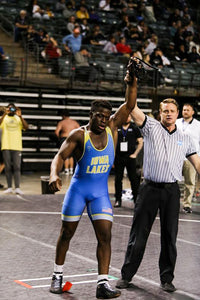 7 Minutes with Arlington Texas Native, Massoma Endene
Massoma just finished his 2nd season as the National Runner up & 2X NJCAA All American at 197 lbs. for Iowa Lakes Community College. What is more amazing about these All-American accomplishments is that he has only been wrestling since his sophomore high school (Arlington Bowie HS, TX). Massoma also placed 5th at 160 lbs. during his high school senior year. 
Q. How did you begin your wrestling career, how old were you when you started?
a.  I started wrestling my sophomore year because I wanted to try something new. After I wrestled in my first match and referee raised my hand, I fell in love the sport. I like it's a combative sport, a one-on-one sport while at the same time you're a team and all eyes are you.
Q. Being from Texas how did you come to the decision to attend Iowa Lakes CC?
a. I wanted to get away from home and I wanted to go a small affordable college that would give me the opportunity get an education & compete. Iowa Lakes allowed me to transition from high school to college & push my comfort zone. I wanted to and prove that even though I started late I can still be successful.
Q. Would you encourage more Texas HS Senior wrestlers consider the junior college route?
a. Yes, I think junior college is an amazing route especially for those aren't ready for the division 1 level, it gives you time to develop while still competing.
Q. I'm assuming you getting accustomed to the weather in Iowa was a challenge. What surprised you the most?
a. The Iowa winters are a beast, I've never experienced weather like that before. You must stay up to date to the weather so we can plan accordingly because you're still expected to go to class & practice, not like in Texas we'd close because it might snow.
Q. How has your High School Coach, Coach Ervin influenced your wrestling career?
a. Coach Ervin pushed to be my best and work hard every day & kept me on track not only on the mat but in my classroom & my life in general. I'm very appreciative to have a Coach like Coach Ervin.
Q. Are you planning on transfer & compete at a 4-year college next year? If so, what are looking for in a university besides the Wrestling Program?
a. Yes, I plan on transferring after this spring & major in Business Administration. Outside of wrestling program I want to build relationships with goal motivated people that I can call my family. Diversity within a school is also something that's very important to me.
Q. What do you consider to be your biggest strength when it comes to wrestling?
a. My biggest strength is my drive to continue to improve, I will out work others & I expect to win every time I step on the mat. I believe I can take anyone down however need to work on top more.
Q. What do you enjoy doing during your down time?
a. I don't have much downtime between class, training & studying however I enjoy playing UFC 4 with my teammates & I watch Netflix.
Q. Which musician are you listening to most often right now?
a. I listen to a lot of diverse musicians but right now I listen to "Lil Baby" the most.
Q. If you could pick three famous people to be a part of your entourage, who would you pick?
a. I would have to be David Googins, Nelson Mandela and Barack Obama.
---