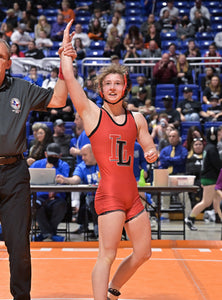 6 Minutes with Avery Ashley, the Lucas Lovejoy High School 2X Texas State Champ
Avery started wrestling in 8th grade & fell in love with wrestling. She is a 2X State Champion & 4X State placer in wrestling from Lucas Lovejoy High School (TX).  She is currently ranked 8th in country at 112 pounds.  Avery is not only a wrestler, but she also competes in Lacrosse, cross country, track (300m hurdles and 4x400) and field (pole vault).  She is also a member of the National Honors Society.
Q. Please tell us about your process of deciding to sign with Oklahoma City University?
a. I knew I wanted to go to a college that was in between far and close to home. I wanted an established team that was close knit because while my high school program was small we were always close. I also wanted a coach that I knew would challenge me both as a wrestler and as a person.
Q. What was the official visit like?
a. Did it feel like they were a close-knit group? I practiced with the team in the morning and then we had a campus tour. Afterwards, Coach Tyson took us on a tour of Oklahoma City, and to some of her favorite restaurants. The team was very closely connected and they were very welcoming and friendly. They took me to see their dorms and talked to me about life on campus.
Q. How are you preparing this spring/summer to transition from high school to college?
a. I'm transitioning into freestyle with local tournaments, and going to Women's Nationals, National Duals, and Fargo. I'll get a weight lifting program from Coach Tyson after the World Team Trials.
Q. How has Coach Eaton impacted your career?
a. He helped me develop the mindset of just going out and scoring points - really being offensive and wrestling the match my way. He encourages me to get out of my comfort zone by volunteering and taking on leadership roles. He helped me prepare when I was talking to colleges. When I tore my ACL at the beginning of my Junior year, Coach Eaton really helped me work through both the mental and physical aspects of returning to competition.
Q. What do you see yourself doing in 5 years?
a. I like to think I will still be wrestling and be competitive in senior level tournaments. I haven't decided on a major yet, but I'm hoping to figure it out later.
Q. Do you have any pre-match rituals?
a. I like to spar a little bit before my matches and to be around people that help keep the mood positive and light.
Q. When you have some down time what do you like to do?
a. I like being outside… In the summer I like to look for lizards, go swimming, or go to the creek near my house. I like to watch amazon prime video. I also like to make food and have even created my own cinnamon roll cookie recipe.
Q. Please describe your emotions when you won your 2nd state title.
a. I was really happy to be able to finish off my high school career with another State Championship and being able to do it in such a dominant fashion just added to the excitement of the whole thing.
Q. Who's your favorite wrestler to watch?
a. David Taylor because he is so offensive. We need a few photos of you wrestling and you socially also your Instagram & any other social media platforms we should tag you on. Thanks
---